Whether you are a natural-born hermit, or a true social butterfly, a part of you is surely jonesing for a bit of travel. To get outside of your house, much less your state, or *GASP* your country… well, that's the kind of thing the best daydreams are made of.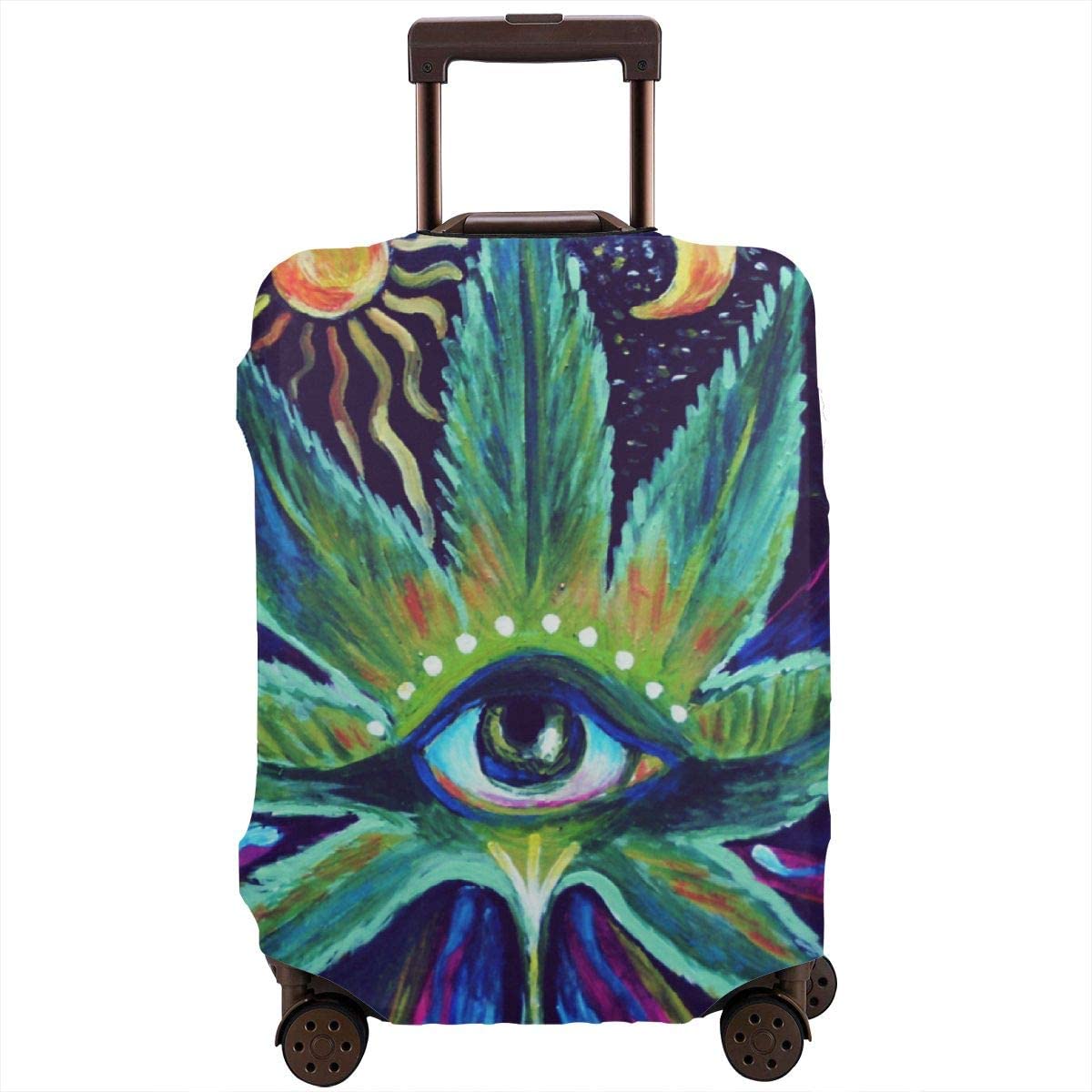 For me, while I already enjoy the thrill of going just about anywhere on this planet that is new to me, I would be lying if I said I didn't enjoy it even more when cannabis is involved.
The thing is, those who live in legal cannabis markets can sometimes easily forget just how few places on Earth are truly tolerant of cannabis. As a weed tourist, it's important to always be aware of the laws and regulations regarding cannabis possession and consumption wherever you're headed, to ensure that you are personally as safe from harm as possible, while also guaranteeing that you aren't pissing off the locals and tarnishing the reputation of weed even further. Remember, when you're traveling, you are a weed ambassador, my friend! So when you find somewhere that is both accepting of the plant and looking to further its de-stigmatized future, then you owe it to yourself to put a pin on the map and add it to your life's weed tourism bucket list. Allow me to get you started!
Amsterdam, Netherlands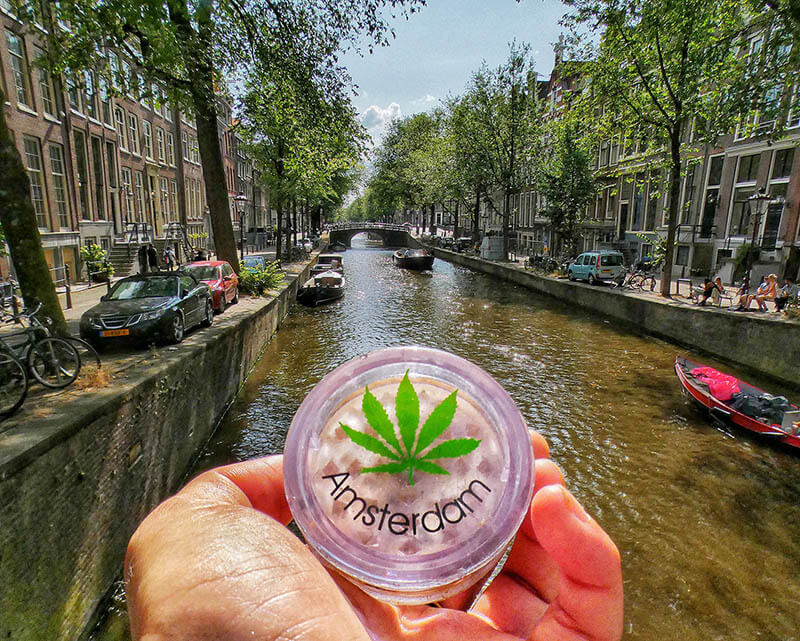 As everyone knows, Amsterdam is the cannabis capital of the world in terms of being the OG tourist destination for the chronic. Classic cannabis coffee shops are in no shortage there, and you can hardly choose a bad one. Some allow you to cozy up at a table and order drinks and food, all while still enjoying a hand-rolled spliff. Others are standing room only, where you have just enough room at a counter to order, pay, and then head back out the door. Like dispensaries across America, they each have their own personality, aesthetic, and vibe, and with persistence, any weed lover could find their picture-perfect ideal spot, if only given enough time to explore them all. 
For the cannabis nerds connoisseurs and historians among you, I highly recommend a pitstop at The Hash, Marihuana & Hemp Museum, located in the heart of Central Amsterdam. It's varied collection of cannabis literature – from hundreds-year-old botanical illustrations to 1930's American anti-marijuana propaganda – combined with it's endless assortment of cannabis inspired art through the ages, will leave any visitor more knowledgeable about cannabis, possibly through sheer osmosis alone.
Kathmandu, Nepal
Despite being the home of the wild and feral cannabis plants of old and birthplace to any number of landrace strain foremothers, cannabis has been illegal in Nepal since an impromptu prohibition was enacted in July 1973, due to pressure from American President Richard Nixon and his efforts to stymie drug traffic coming into the US. The plant was further criminalized with Nepal's Narcotics Drug Control Act, passed in September 1976.
However, once a year, during the late winter Hindu festival of Maha Shivaratri, meaning "The Great Night of Shiva", holy men of the faith, sadhus, are allowed to partake in the sacrament of ganja. The consumption of cannabis is a celebration of Shiva, and is tolerated by Nepal's law enforcement, due to its religious nature, but only for practitioners of the faith. In years past, it was common for visitors of any faith to purchase cannabis and consume it during the festival as well, but recently that is being cracked down on harshly, with arrests of tourists caught consuming happening frequently.
You may be asking, "Then why go at all?"
Go to find out if the energy there hums with the raw, human electricity of other-worldly love.
Go because it is surely beautiful to see such a peaceful display of faith at that magnitude, regardless of if you are a bystander or a participant.
Also, go because you will likely get a contact high due to proximity no matter what.
Chicago, Illinois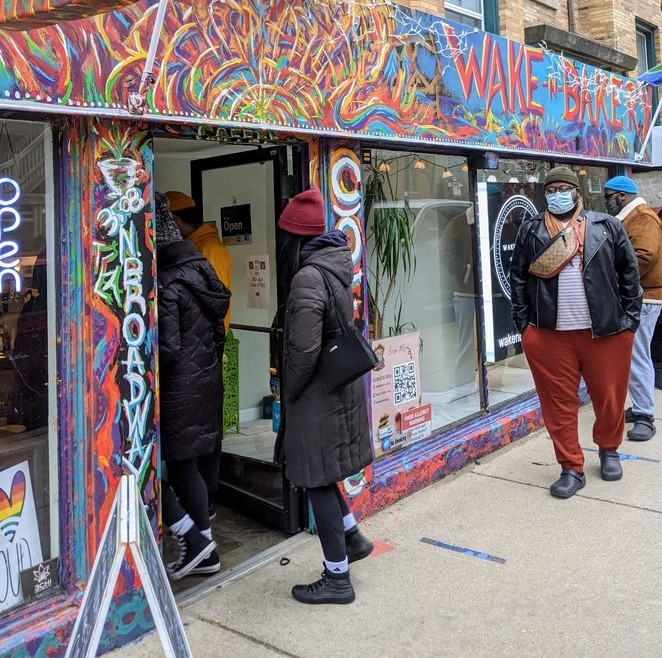 Located between the Lincoln Park and Pine Grove neighborhoods of Chicago, the Wake-N-Bakery is a one-of-a-kind coffee shop experience. Established for business in December 2019, this bakery and café specializes in freshly made cookies, pastries, juices, gummies, coffees and teas, all with the option of being infused with either CBD or Delta 8 THC distillate-based tinctures, to avoid that "weedy" taste.
When I spoke to Brianna Banks, one of the co-owners of the shop, about which other cannabinoids they hope to begin using in the crafting of future menu items, her list was both exotic and familiar. "Delta 10 THC, THCA, THCV, THCO, CBN. And we have also applied for a license to serve Delta 9 THC, but that could take time."
She and co-owner, Mohamed Lotfy, take pride in serving delicious treats that aren't just "good for an edible," but rather, are scrumptious perfection all on their own. If you're coming back to their treats again and again, they want it to be for more than just the joy of getting high, (even though that's pretty great too, obvs).
Los Angeles, California
The Cannabis Café, in West Hollywood, was the first on-site consumption lounge and restaurant of its kind in the state of California. Designed to have the swanky feel of a classic, mid-century, Hollywood lounge – with cream-colored tufted leather booths, sandlewood-stained herringbone-patterned flooring, a copper-colored tin tile ceiling, and viney plants hanging everywhere – you can seemingly make any cannabis dream a bona fide reality.
Before temporarily shutting their doors due to the Covid-19 pandemic, you could order any number of items to your table for your party: high-quality cannabis flowers, vapes, pre-packaged edibles, concentrates and extracts. To pair with that fine selection, Cannabis Cafe also provided a wide variety of smoking and vaping paraphernalia, such as pipe and bong glassware from local artisans, PuffCo dab rigs, and Pax vaping tech, as well as a full, multi-course menu with Chef Andrea Drummer at the helm.
The re-opening of this WeHo hot spot is anticipated by many weed tourists from all walks of life all over the world, and I know I am keeping an eye on their Twitter (@ogcannabiscafe) for any updates as to when that magical time might be, so as not to miss out on being the first in line for a bong rip with a side of burger.
Canada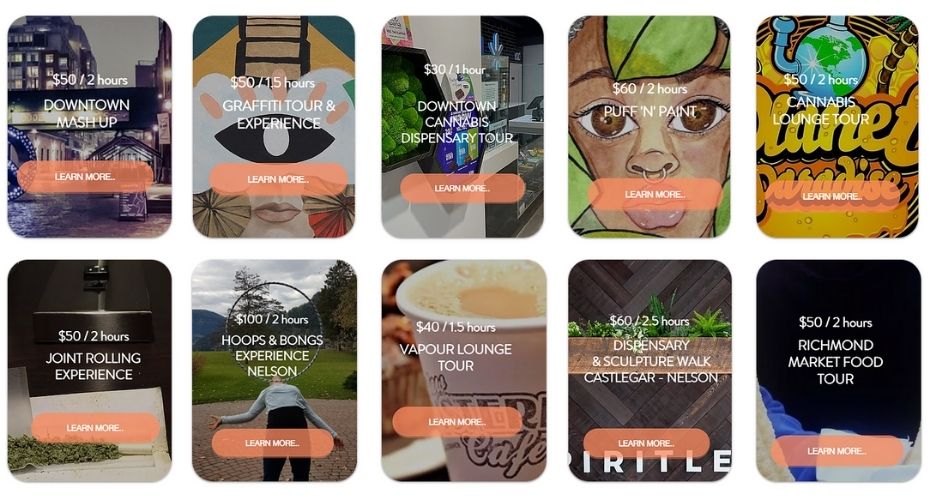 If you're looking for the all-inclusive, tied-in-a-bow, Instagram-ready type of experience package, while being allowed to consume as early as 19 years old, and being in absolutely no danger whatsoever of being thrown in jail for consuming, then Canada is the place for you, eh' bud.
Cannabis High Tours is a cannabis tourism one-stop-digital-shop that feels like a mix between Groupon and Couchsurfing. Local weed enthusiasts from various Canadian cities can join to become local cannabis hosts, acting as the friendly ganja guide to visiting canna-curious tourists. They have a presence of hosts in Toronto, Ottowa, Calgary, Vancouver, and Montreal, and provide bookable events such as a Puff & Paint session, Clay & Cannabis course, or even Toke & Tattoo events. (The alliteration is strong in Canada, can you tell?) Is it possible that Canada is the friendliest place on earth to consume cannabis? Gotta' go to find out for yourself!
There you have it, my fellow wander-lusting weed lovers! A small jump-start to your personal cannabis bucket list.
Remember: Say please and thank you, share your greens, and whenever possible, use the buddy system. Be wary of your limits, but first and foremost, enjoy the ride. May your adventures be plentiful, and your high's bountiful.
Happy trails!
Dara Cameron